Compared to their Asian counterparts, Singapore organisations are largely adapted to remote working and split-team arrangements in case of a pandemic. But the COVID-19 that has stretched to more than a year now, has greatly impacted the working arrangements and mental well-being of the employees.
Although vaccination has started in Singapore, this is not the only consideration for organisations to wean their employees out of their work-from-home situations completely.
So how do companies decide whether it is safe to go back to work? 
In this article, we briefly look back at some elements of this cyberspace exodus and look at data from Fortune 500 executives and the people-first considerations they have in a post pandemic workplace.
-GPTW Singapore
The COVID-fueled exodus to cyberspace
When the pandemic hit, employers scrambled to set up work-from-home options and the remote workforce quadrupled.
Pre-COVID, the average portion of employees working remotely was just 16%, according to survey respondents.
That number has since leapt to 65%, with most employees working from their dining tables in the professional services (89%), information technology (88%), and financial services and insurance (74%) sectors (see chart).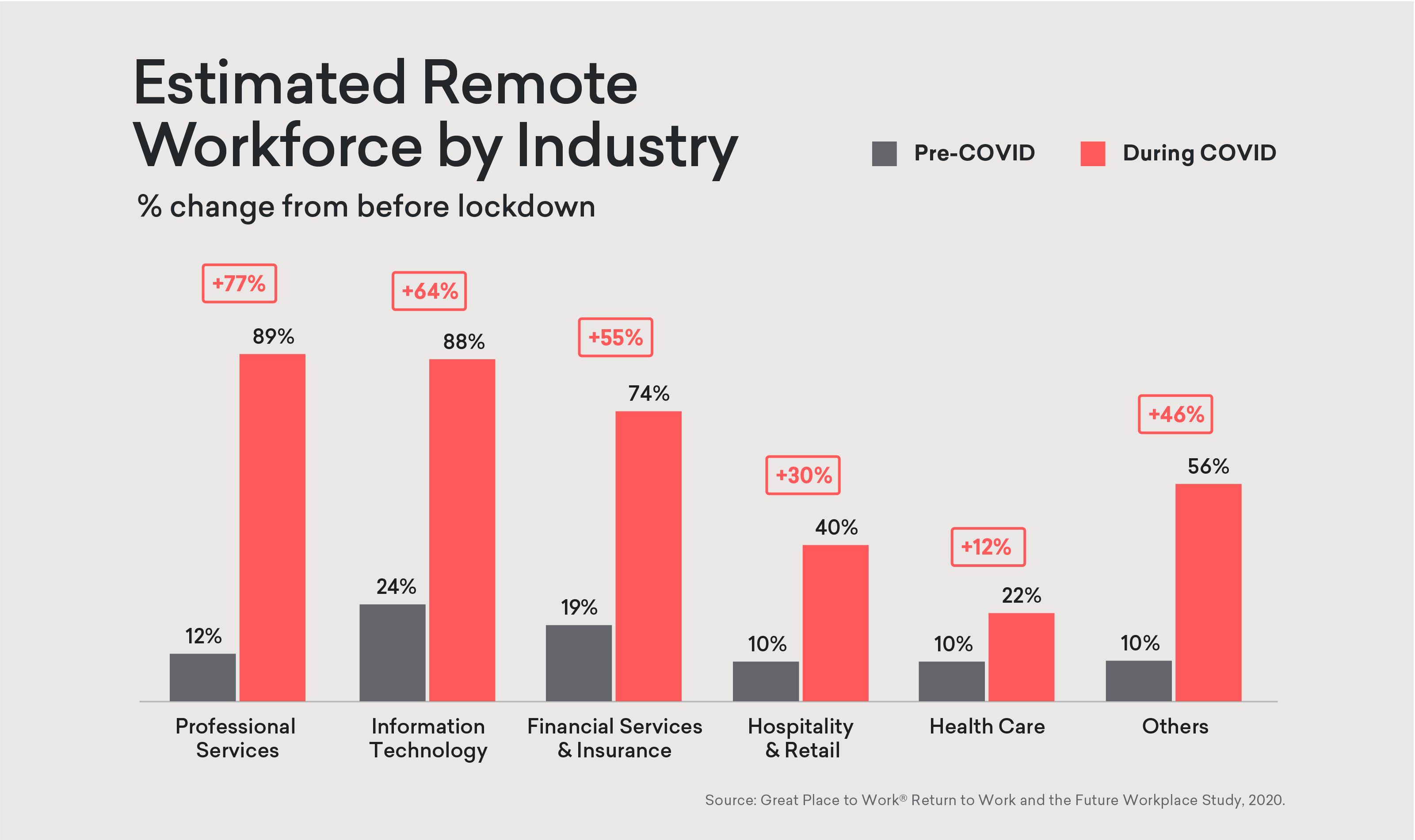 Executives disagree on how working from home has affected company culture and productivity
50% of executives surveyed believed productivity was not impacted by remote work. 30% of executives believed teams were more productive while working from home.
But 20% reported mixed impacts across teams and business units, with some improving while others suffering.
Leaders hold diverse views about the anticipated productivity gains when employees return to the office, with just 14% expecting better productivity in the future (see chart).
30% of executives believed teams were more productive while working from home.
Camaraderie and morale (61%) and collaboration (45%) are the top ways executives expect returning to the office will improve company culture.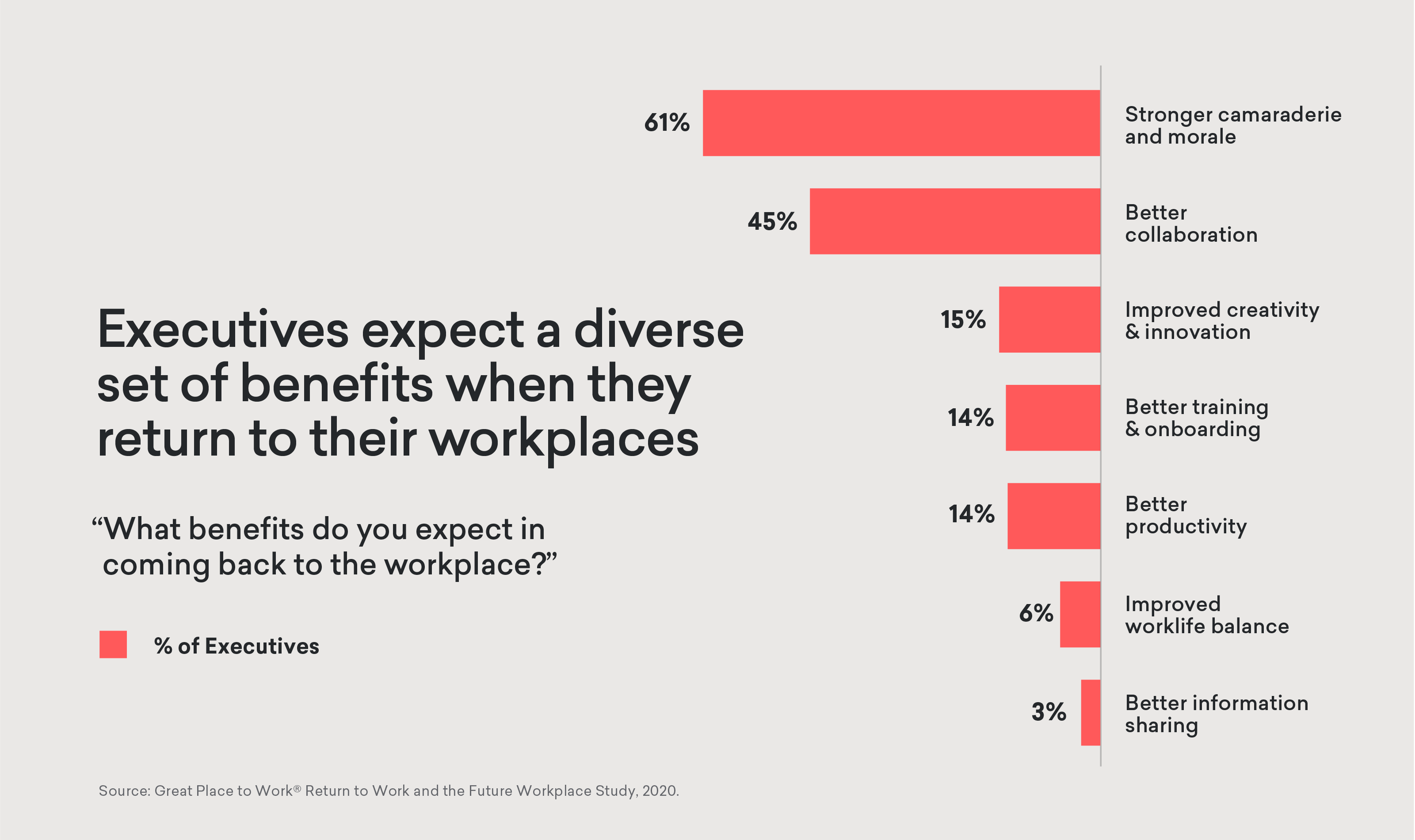 When executives plan to return employees to the office
Having employees return to the office hinges on safety measures and the nature of the industry.
Most leaders are targeting a return to the workplace within the next 7-12 months (52%). Six months is the target for 30% of executives surveyed, and 13-18 months (13%) and 19-24 months (1%) is when the remainder plan to return.
Hospitality and retail leaders are likely to return sooner, with 78% anticipating a return within the next 6 months.
Want to go back to the office? Better get that vaccine
Vaccine availability is the primary signal executives are seeking for a safe return. Other factors include improved treatment and testing for COVID-19, and adjustments to office spaces, including onsite clinics, temperature checks and improved HVAC systems (see chart).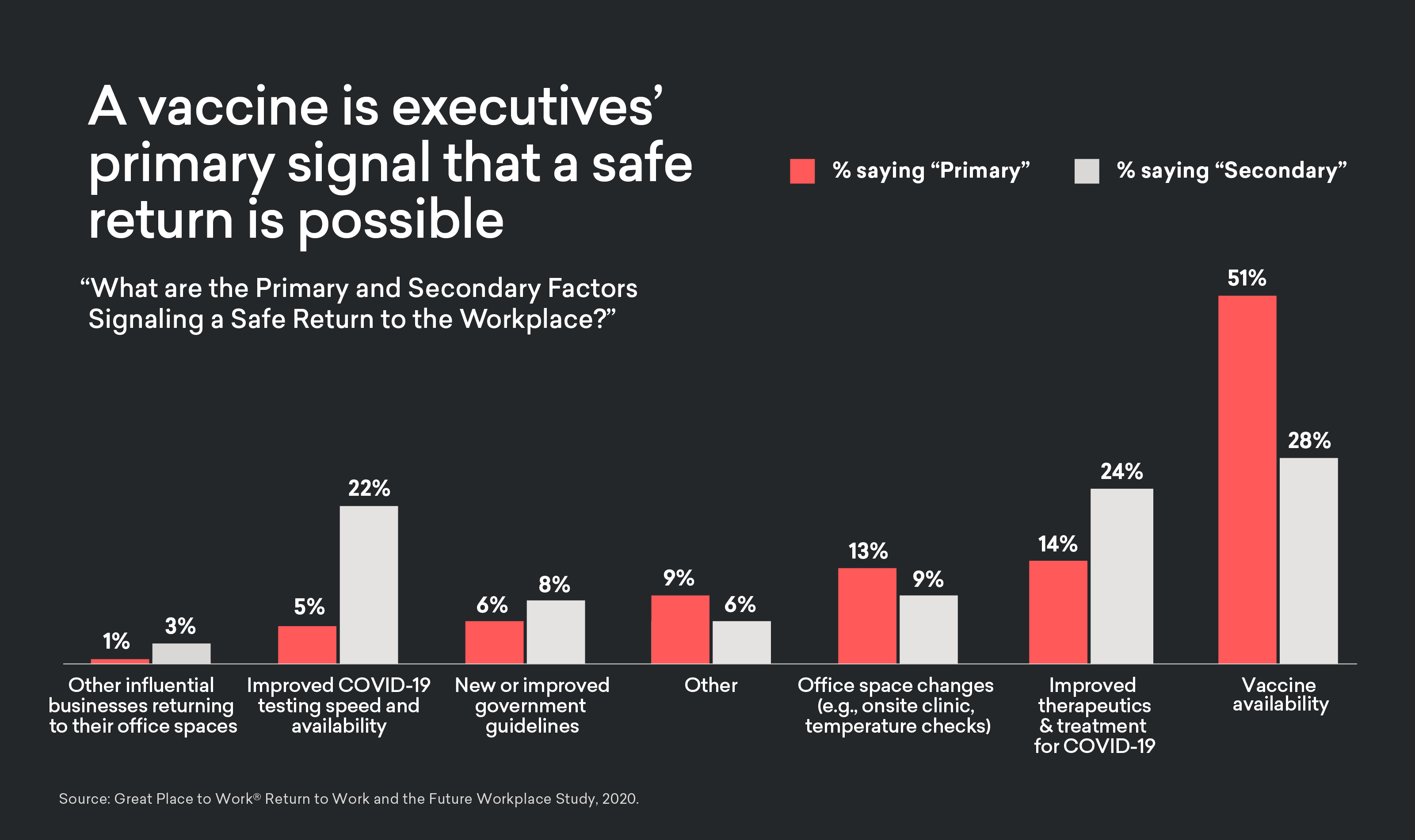 Location, location, relocation
While most executives anticipate a return to the office, how that office looks and functions will likely change.
The vast majority (86%) of respondents anticipate no geographic change to the location of their office; however, over half (58%) anticipate reducing their office space by at least 10% from pre-COVID needs. Over one-third expect their office space to reduce by 25%.
58% of Fortune 500 executives surveyed anticipate reducing their office space from pre-COVID levels. 
Remote-first cultures and hybrid models vary by industry
Three out of five executives believe up to 25% of their workforce will continue to work remotely full-time.
Technology and financial services organizations anticipate the largest remote workforce after the pandemic, at 40% and 35% of their staff remaining remote, respectively.

Top concerns about returning to the office
As employees return to the office, workplaces will likely say goodbye to old ways.
Executives anticipate various employee concerns about returning to work. Health and safety fears (40%), caregiving responsibilities (38%), and commuting on public transit (20%) are top concerns.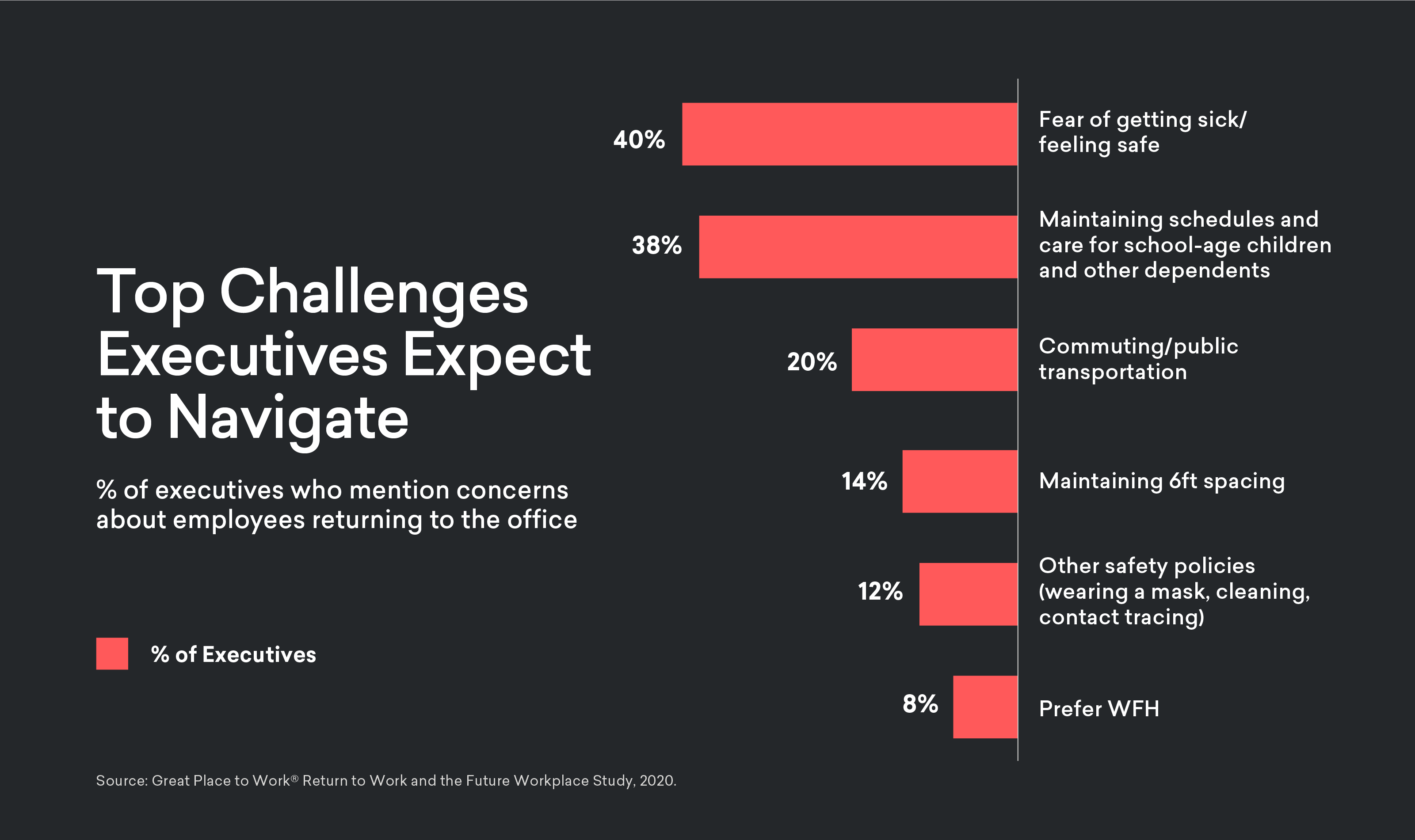 To reassure employee confidence in a safe return-to-work, executives are looking to measures such as onsite wellness clinics with rapid testing, temperature screening, and physical distancing.
Companies such as Credit Acceptance are staying in touch with the needs of their employees for safe return, with ongoing pulse surveys.
How to support a successful return to work
Both executives and employees point to several actions that can support a successful return to the office:
Set up employee task forces or advisory boards to keep a pulse on how people are feeling
Support managers to look for signs that employees need more/different support
Design common areas to create a healthy environment
Design spaces to boost collaboration and innovation among virtual and in-office employees
Explore options to support employee needs for childcare and safe commuting
How do your employees feel about returning to the office?
Are your employees more productive and happy working remotely? What are their top concerns about coming back to office HQ? And how will you serve them? Survey your employees with our pulse survey to find out and plan a safe return.
Sign up to our e-newsletter for more company culture research and advice.